Embrace your shape
- Use your style to enhance your body shape -
◦ Curvy:
Clothes that enhance the hourglass shape are always flattering, for instance formfitting dresses and skirts that are cut diagonally or on the bias, to nip in at the waist, hug hips and fall loosely over thighs and calves. Your waist should always be defined; either a belt or clothing with details like beading or ruching will be flattering.
◦ Fuller figure:
A structured look will always work; stretchy fabrics such as jersey can also be nice. You can wrap, twist and gather a soft, stretchy fabric. Try to avoid sack-like or boxy shapes, as this will add pounds. Tailored pieces like fixed button-ups, straight skirts and trousers and wrap dresses that skim the body will give waist definition. Avoid big prints.
◦ Boyish:
Enhance your figure - transform your slender physique into a more curvy shape by accentuating your middle, creating the illusion of a bigger bust and hips. Also, pieces with pleats, poufs and peplums, add ladylike definition, as well as ruffles, beading and bows that all offer a feminine boost to your figure.
◦ Petites:
Avoid busy and loud prints that you will get lost in and stay away from things like overly ornate embellishment. Fabrics such as brocade, velvet, silk; lace and chiffon can add character and fullness in the right places. You can get away with lots of layers, so have fun!
◦ How much skin to show is a personal choice and depends partly on the occasion. Carefully chosen colours can bring out your best features, but for a classic look, black will always be chic.
◦ If you're wearing tailored, make sure you're wearing it right: Hem your trousers for shoe height, make sure the length between the crotch and waistband is right, otherwise your trousers will either be too tight or bunch, or be baggy. Similarly, your jacket should enhance your posture, not either drown you or be uncomfortably tight.
◦ Consider wear and tear: sometimes even the most careful owners accidentally tear a favourite top, and with a lot of wear you can wear out your trusty old favourites. Depending on the severity of the damage, we may be able to help you, so bring it in to show us.
Throughout history clothing has been used to express social class, wealth and style.
Within modern fashion, there is a wide range of fabrics and styles available due to the technical advances within the industry. When choosing clothing you need to embrace your shape and know the right style of what you should wear.
Do the clothes suit you?
Do the clothes suit the occasion? Do they suit the season?
Do the clothes suit each other?


The 2000s fashion are often described as being a "mash-up", where trends saw the fusion of previous styles, global and ethnic clothing (e.g. boho), as well as the fashions of numerous music-based subcultures, with hip-hop fashion generally being the most popular among young people. In the early 2000s, many mid and late 1990s fashions remained fashionable around the globe, while simultaneously introducing newer trends. Although the 2000s did not have one particular style, they revived clothes primarily from the 1960s, 1970s, and 1980s.
Body shape is all about proportion, and fashion is all about dressing those proportions to look their very best. When you think about body types, don't focus on height and weight... focus on shape. Our body shapes are generally narrowed down to five general categories: pear, wedge, rectangle, apple and hourglass. You might fall into one category, or you might be a blend of two or more categories. Once you've determined your body shape, you can begin to consider which fashion trends to embrace and which to avoid.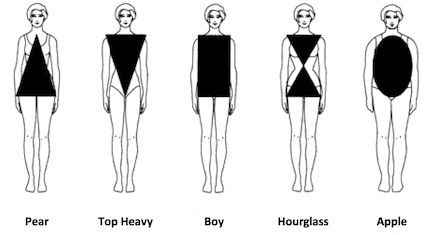 Pear Body Type:
◦ Pear body traits: Your lower body is wider than your upper body — in other words, your hips are wider than your shoulders. Your bottom is rounded and your waist is well-defined.
◦ Your best assets: Shoulders, torso and flat stomach
◦ Your fashion goals: Emphasize your waist and arms, add volume to your shoulders and upper body and minimize your hips.
Dos and don'ts
◦ DON'T wear clothing that draws attention to hips and thighs, such as cargo pants or print skirts.
◦ DO try A-line skirts, which camouflage wider hips.
◦ DO keep hems of pants, skirts and dresses wide to balance the hips.
◦ DO experiment with light-coloured tops and dark-coloured bottoms for contrast.
◦ DO look for boat neck tops, square and cowl necklines.
◦ DO wear strapless dresses to show off arms and even out proportions.
◦ DO try styles with ruffles on top.
◦ DO wear jackets that hit right above the waist.
◦ DO opt for pointy-toed shoes to elongate your legs.
Wedge Body Type
◦ Wedge body traits: Also known as the inverted triangle, this body shape features a broad chest and wide shoulders which are large in proportion to a narrow waist and hips.
◦ Your best asset: Your legs
◦ Your fashion goals: Accentuate your lower body while softening your shoulders and upper body.
Dos and don'ts
◦ DO wear bright colours on bottom.
◦ DO wear wide-leg pants.
◦ DO wear full skirts.
◦ DON'T wear spaghetti-strap tops.
◦ DON'T wear boat neckline tops.
◦ DO wear tops that call attention to your waistline.
◦ DO experiment with high-waisted styles.
◦ DO look for clothes that create the illusion of a waist.
Rectangle Body shape
◦ Rectangle body traits: The waist, hip and shoulder widths are similar and are usually on the slim side. Slender rectangles have an athletic look about them.
◦ Your best assets: Your arms and legs — and you don't have to minimize any body features.
◦ Your fashion goals: Create curves and show off slender legs and arms.
Dos and don'ts
◦ DO wear scoop neck and sweetheart tops to create curves.
◦ DO wear long jackets to create a lean look.
◦ DO wear tops with collars, ruffles and details to flatter your chest.
◦ DO wear a good bra that will make the most of what you have.
◦ DON'T wear overwhelming styles.
◦ DO layer to add more dimensions.
◦ DO wear dresses with ruching. Cinches on sides are ideal.
◦ DO have fun with colorful bottoms... feel free to experiment.
Apple Body Style
◦ Apple body traits: Most of your weight accumulates above the hips, which are narrow. Your back, ribs and shoulders are broad, and you may feel wider than other body types.
◦ Your best asset: Those legs!
◦ Your fashion goals: Elongate the torso, show off your legs and use fashion to create the illusion of a waist.
Dos and don'ts
◦ DO go for monochromatic looks.
◦ DO go for v-neck tops to create the illusion of a longer torso.
◦ DO wear a bra that offers good lift and support.
◦ DO wear belts at the smallest part of your waist.
◦ DO conceal tummy bulge by wearing empire tops and dresses.
◦ DO wear boot cut and flared jeans to create an even line from the shoulders down.
◦ DO wear shorter skirts to show off your legs and draw attention away from your midsection.
Hourglass Body Style
◦ Hourglass body traits: Your shoulders and hips are similar in proportion and set off by a tiny waist.
◦ Your best assets: Curves, curves, curves!
◦ Your fashion goals: Show off your curves... without going overboard.
Dos and don'ts
◦ DON'T hide your curves with baggy clothing.
◦ DO wear a good bra and showcase your bust.
◦ DO wear fitted dresses.
◦ DO wear a belt at the waist to enhance your hourglass shape.
◦ DO try wrap dresses.
◦ DO go for high-waisted skirts to show off your hips.
◦ DO pick thin, lightweight styles and fabrics.
◦ DO wear skinny or straight leg jeans.

As a result of having fewer curves, male bodies may vary less in form than women's bodies, but nevertheless, variation does exist and knowing how to dress for your body type as well as which styles to avoid is the key to honing your personal style. One thing to always keep in mind when shopping for new clothes is that the fit of the garment is its ultimate test. If an expensive jacket just isn't right for your body, it's going to look bad no matter what the price tag. Conversely, a cheaper jacket that accentuates your assets and disguises the things you don't love about yourself will make you look like a million bucks even without a million-dollar price tag.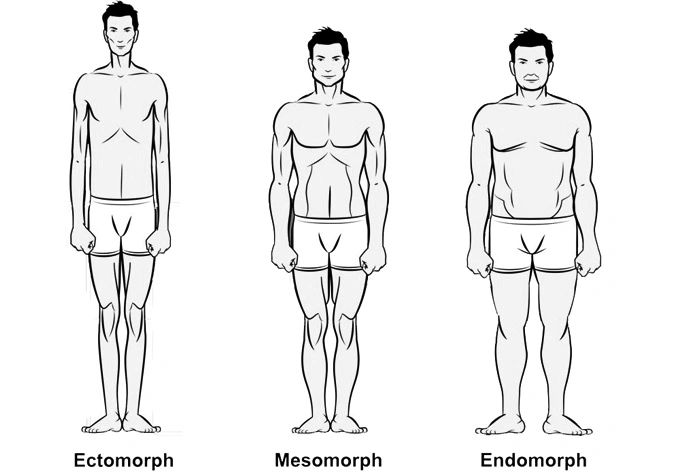 The Bulky Man
Stay away from horizontal stripes - If there's a little more of you to love, particularly in the stomach area, avoid any kind of horizontal stripe. While you're at it, avoid diagonal stripes too. What you should wear with pride, however, are shirts and trousers with vertical stripes. Vertical stripes draw the eye downward, elongating your silhouette and visually slimming it. Pinstripe suits are the perfect dress-up clothes for you, especially paired with a crisp black dress shirt underneath. Pinstripe dress shirts will also look great when mixed with dark jeans or black trousers. For casual wear, try to find a pair of dark corduroys with slim stripes that are made from thin material.
Avoid double-vented jackets - The slits in the back of your jacket are referred to as "vents." All jackets should cover your bottom. However, if you have a larger behind that makes you feel a bit self-conscious, stay away from blazers and jackets that are double-vented (the ones with two slits in the back) as this cut will draw attention to your posterior. To camouflage a wider rear, go with single-vented jackets or jackets without any vents. If you already own a double-vented jacket that you love, a professional tailor should be able to sew up the slits for you at a fairly minimal cost.
Buy clothes that fit - Many mistakenly believe that tight clothing will smother imperfections and flatten out pudgy shapes. The reason this way of thinking works for women is because women have access to control-top underwear that creates a flatter midsection, thus allowing them to wear tighter clothes. Tight clothing will only draw attention to your flabby bits. In a similar vein, other plus-size men believe baggy clothing will hide bulges. Not so. Overly large clothes will only make you look bigger. The secret to looking slimmer is to choose clothes that are neither tight nor baggy, meaning that all your clothes should just skim your body without hugging it too closely.
Go monochromatic - A shirt and trousers in two extremely contrasting colours — like black and white — will break you in half and make a large middle stand out. Choose tops and bottoms that are identical or similar in colour to create a cleaner visual impression and to look 10 pounds slimmer instantly. And, of course, choose all black for the most slimming effect, but add some coloured accessories to avoid looking like you have a funeral to attend.
Avoid turtlenecks - If you are heavy-set, avoid turtlenecks at all costs and opt instead for V-neck T-shirts, long-sleeve tops and sweaters. This type of collar draws the eye down with the effect of creating a sleeker silhouette. In addition, a V-neck will give you the illusion of having a longer neck, particularly if you have a short neck or a double chin.
Choose prints carefully - Unless you're on a drunken adventure through Hawaii, stay away from T-shirts or dress shirts with large or busy prints if you're a bulky guy. These kinds of prints will draw attention to the upper half of your body, which is especially bad if you have a large belly that you would like to conceal. Obviously, printed shirts add flair to a wardrobe, so you shouldn't swear them off entirely. You'll look best in a shirt with a small print that is spaced quite far apart.
Wear a belt - A belt will nip in your waistline and make it appear slimmer. Just be sure not to make it so tight that you have a belly overhang.
The Tall and Skinny Man
Don't wear vertical stripes - No woman wants a man who looks like he's withering away, so if you're tall and thin, choose horizontal stripes to bulk you up a bit. A single, large horizontal stripe across the chest area can be particularly flattering because it will make your shoulders appear broader and will make you look like you have a perfect physique.
Avoid monochromatic looks - If you wear a solid colour from head to toe (especially black), you'll seem even thinner than you are, so break up your look by wearing a few different colours in your outfit. Fortunately, playing around with the colour palette should be fun and you'll get to experiment with a lot of different looks.
Choose fitted shirts - Loose-fitting, untucked shirts will billow around you and make you look like the mainsail on a mast, so you'll want to choose something more fitted instead. While you should avoid skintight shirts because they will accentuate your bony upper half, do choose slim-cut shirts and learn how to layer them to fake a bit more mass.
Stay away from skinny jeans- The anorexic female model/'80s rocker look is never a flattering one for a man, so just say no to skinny jeans. A straight-cut or boot-cut jean with a long inseam will flatter you best.
Choose lighter colours - Lighter colours will make you appear slightly larger, so choose whites, creams, light blues, light greys, and pastels to visually bulk you up a bit.
The Short Man
Avoid really big prints - On smaller bodies, giant prints will overwhelm. One way to add quirk to your closet with prints is to choose small prints, like a graphic black and white print or small checks. So if you're shorter, have fun with your wardrobe by keeping your prints proportionate to your body.
Wear a small rise - The rise in your pants is the distance between the crotch of your pants and the waistband. Shorter men should wear the smallest rise in their pants that they can get away with because a really long rise will make you look like you have a negative butt, as well as making what you've got in front look nonexistent. In contrast, a short rise will visually elongate your legs and avoid making your crotch and bottom area look baggy and empty.
Choose a slimmer necktie - Slimmer to medium-sized neckties will avoid overwhelming your frame. Large ties should be avoided if you are short because they will make your body seem disproportionate by comparison. If you are very short, you might want to check out ties that are both slimmer and shorter.
History of fashion:
Before the Industrial Revolution, the pursuit of fashion was out of the reach of most people. The raw materials used and the processes involved indicated status, so for example in the 17th century, the fashion among the wealthy was for black cloth and white linens. This sounds boring to us, but at the time, black dye was the most difficult to get right, and having pristine white linens showed you didn't do manual labour!

If you look at women's fashions from the 16th century to the First World War, you will see that the "ideal" shape changed dramatically, and went through a variety of geometrical shapes thanks to the use of corsetry and strategic padding.

The Industrial Revolution allowed cotton fabric to be manufactured more quickly and cheaply than ever before, and with women joining the paid workforce in ever-increasing numbers as factory hands, more women than ever suddenly had disposable income to start participating in what we might recognise as "fast fashion" (although the styles did not change nearly as fast as they do now). It's at around the same time (ca. 1800) that we start to find mass-produced and ready-to-wear clothing coming onto the market; previously, all garments would have been made specially, either at home or by a tailor or seamstress. The first garments available to buy off-the-peg were simple things such as stockings, cloaks, shawls and workwear. A second clothing revolution came in the 1860s, with the development of aniline dyes. Derived from coal tar, these for the first time allowed cheap, light- and colour-fast dyeing, more reliable than the plant dyes that had previously been used. The first was Perkin's Mauve, a brilliant violet that caused a sensation!

Men's fashions have changed relatively little over the last 250 years; the three-piece suit has its origins in the 18th century, and the sober colours now favoured for business emerged in England in the 1780s and 1790s, distancing the English gentleman from his more flamboyant French counterparts. With the Revolution of 1789, discreet wool cloth in tones of blue, grey, and buff were more appealing than dangerously lustrous silks and brocades in peacock colours and outrageous prints.
1900s - Women
The S-bend corset was fashionable during the 1900s. It thrust the hips backwards and forced the chest forward into a fashionable pouter-pigeon shape, emphasised with puffed, frilly blouses that were often embellished with decorations such as lace collars and broad ribbon ties. Separates were popular, with skirts fitted over the hips and fluted towards the hem.

1900s - Men
Men wore three-piece lounge suits with bowler or cloth caps. Jackets were narrow with small, high lapels. Most collars were starched and upstanding, with the corners pointing downwards. Some men wore their collars turned down, with rounded edges and modern knotted ties.
1910s - Women
During this decade, frilly, puffed blouses and fluted skirts continued to be popular. A slightly high waistline was fashionable, as was a long tunic-like top worn over an ankle length A-line or 'hobble' skirt (cinched in at the hem). During World War I (1914–18), many women volunteered as nurses or worked at munitions factories to aid the war effort, and adopted practical, working clothes and sometimes wore uniform, overalls and even trousers.
1910s - Men
The three-piece lounge suit was commonly worn, but from 1914 to the end of the decade, many men were photographed in military uniform.
1920s - Women
At the very beginning of the 1920s it was fashionable for women to wear high-waisted, rather barrel-shaped outfits, and tunic-style tops were popular. However, between 1920-2 the waistline dropped to hip level, obscuring natural curves for a tubular, androgynous look. Young, very fashionable 'flappers' wore their hems at knee level, with neutral coloured stockings and colourful garters. Hemlines drifted between ankle and mid-calf for the duration of the decade. Jewellery was prominent, including large brooches and long strings of pearls.
1920s - Men
Men wore narrow-cut lounge suits, with pointed collars turned down, and plain or simply patterned modern knot ties. Cloth caps were popular amongst the working class, though trilbies or homburgs were worn by the middle classes.
1930s - Women
The drop-waist androgyny of the previous decade gave way to a slinky femininity in the 1930s. Parisian couturiers introduced the bias-cut into their designs, which caused the fabric to skim over the body's curves. Long, simple and clinging evening gowns, made of satin were popular. Often the dresses had low scooping backs. During the day, wool suits with shoulder pads, and fluted knee-length skirts were worn. Fox fur stoles and collars were popular, as were small hats embellished with decorative feather or floral details, worn at an angle.
1930s - Men
Men now generally wore three-piece suits for work or formal occasions only. Two-piece suits (without a waistcoat) and casual day wear were becoming increasingly common, including knitted cardigans, tank-tops, and soft collared or open necked shirts. For the first time it was not obligatory to wear a tie. Trousers were very wide, with turned up hems and sharp creases down the leg. They were belted high at the abdomen.
1940s - Women
As a result of the war there were severe fabric shortages, which lasted until the end of the decade. Clothes were made with a minimum of fabric, few pleats and no trimmings. Skirts were a little below the knee and straight, worn with boxy jackets and broad, padded shoulders. Many men and women wore uniforms. From 1942 onwards some clothes were made under the government Utility Scheme that rationed materials. They are identifiable by a 'CC41' stamp, which is an abbreviation of the 'Civilian Clothing Act of 1941'. During the war, accessories were important because of their relative affordability; tall platform shoes or sandals, and tall flowery hats were fashionable. Hair was worn long, with stylised waves and rolls on top of the head. In 1947, as a reaction to the years of rationing, Christian Dior introduced his 'New Look', which revolutionised 1940s fashion. Skirts became longer and fuller, and boxy shoulders were softened to become sloping. Waists were cinched and hats grew wide and saucer shaped. After a decade of military-inspired Utility outfits, femininity was back.
1940s - Men
During the war, most men wore military uniform of some kind. Men in civilian clothing were often dressed in lounge suits with broad shoulders, with wide trousers belted high at the abdomen. After 1945 many men leaving the armed forces were issued with a 'de-mob' suit, consisting of shirt, tie, double-breasted jacket and loose fitting trousers.
1950s - Women
The 1950s continued the late 1940s style with very full skirts, cinched waists and sloping shoulders. Another popular silhouette was the narrow pencil-skirt look. Daywear consisted of skirts and jackets or day dresses in tweeds and woollens. Dresses with pencil or full skirts were seen in either plain fabrics or floral prints. Separates were popular, especially waist length cardigans.
1950s - Men
Men's fashions still revolved around the suit. Grey flannel suits were common, worn with shirt, tie and pocket handkerchief. Tweed or check jackets worn with non-matching trousers were also popular, and open collars were permitted for casual wear. Teenagers began to appear as a separate group during the 1950s. Their fashions were influenced by American stars, who wore leather jackets and jeans. The Teddy Boys, who wore pointed shoes, tight trousers and long jackets with velvet trim, were also a significant teenage group.
1960s - Women
Young people's income was at its highest since the end of the Second World War, creating the desire for a wardrobe which did more than simply copy adult dress. Designers like Mary Quant and Biba label provided clothes that were aimed specifically at young people, of which the mini-skirt was the most distinctive introduction. Towards the end of the decade the hippy movement from the west coast of America emerged, experimenting with colours, patterns and textures borrowed from non-Western cultures. Older or more conservative women still tended to dress in skirts below the knee with tailored jackets, coats or cardigans.
1960s - Men
Perhaps the most remarkable development in 1960s dress was the dramatic change in menswear. For the past 150 years, clothing for men had been tailor-made, and plain and sombre in appearance. Now, colourful new elements were introduced, such as the collarless jacket, worn with slim-fitting trousers and boots. During the mid-1960s frills and cravats were worn with vividly printed shirts. Finally, lapels and trousers took on exaggeratedly wide dimensions. Clothing became increasingly unisex as men and women shopped at the same boutiques for similar items.